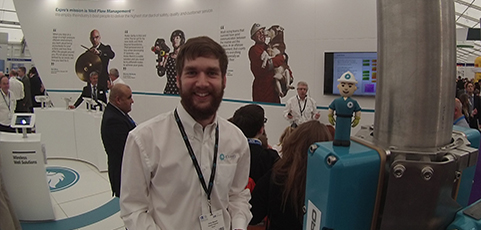 Career decisions require responsibility and maturity, but more importantly, there must be adequate information available to make them. The INSPIRE schools engagement programme at Offshore Europe 2015 (OE15), was designed to provide students with such information.
The theme of 'how to inspire the next generation' was aimed at not only inspiring students, but giving them valuable insight to the oil and gas industry. Professor Brian Cox echoed this in his opening plenary at the conference, by stressing the importance of giving young people access to the right information, and if just one element gets them thinking differently, then it has been worthwhile.
Personally, I always had an idea of what I was going to do for a career, right up until my final year of secondary school when I decided to change my path from chemical to mechanical engineering. I carried out multiple summer placements with Expro, while studying for my Masters in Mechanical Engineering at the University of Aberdeen. I then joined Expro as an Engineer and love the opportunities and challenges that working in the industry brings.
I have always believed that whilst school classes and university lectures come to an end, your education is a lifelong process. Being inquisitive and inspired assists your development as an individual, and this education is your passport to greater opportunities.
One of the greatest advancements in your education is developing your ability to absorb new information. So my advice for the students involved in the INSPIRE programme is to be a sponge and constantly look for these opportunities – they are available, you just have to take them.