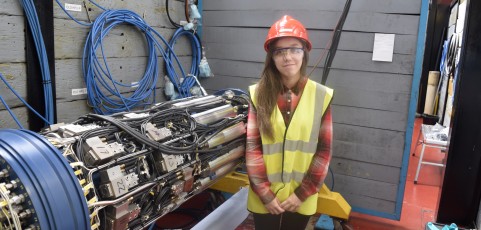 For the past year I have been taking part in the Career Ready programme for school pupils in fifth year which aims to prepare young people for the world of work. As part of my involvement, I have been mentored by Neil Sims, Vice President of Europe CIS at Expro.
This summer, I am spending five weeks as an intern in the Marketing and Communications department – supervised by Ria Brown, Senior Marketing Coordinator. During my time in the department, I am undertaking a range of tasks to show how my passion for language and creativity can be used to contribute to the success of a multinational business like Expro.
My first week at Expro was better than I could have hoped! On my first day, I met the team and was shown around the Lion House building. Ria had set up a desk for me right next to the window, equipped with books, brochures and stationary. I also had my HSEQ induction on my first day – Expro is extremely dedicated to ensuring that its employees are in a safe environment at all times. I was given time to settle in and started to work on my tasks.
Throughout the week I settled in a bit more. I had a range of projects to get on with so I was never sitting bored. I also had meetings with different members of the team to see what their role is and how they could best support me during my time at Expro. At first I found the idea of having meetings with other people from the business quite daunting, but everyone I spoke to was friendly and happy to answer my questions.
On Friday, I met up with Neil to go on a tour of Expro's workshops in Aberdeen. I was suited and booted in all of my PPE gear – hard hat, safety glasses, hi-vis vest and some particularly heavy shoes to keep me safe! The tour again reinforced how cautious Expro is in regards to health and safety.
Looking around, the main observation I made was that Expro is not only consistent in its health and safety procedures, but it is also consistent in their branding – most pieces of equipment I saw were blue – just like the Expro logo! Everyone we met along the way was happy to show me what they were doing and how their work contributes to the success of Expro. It was a great way to round off my first week!