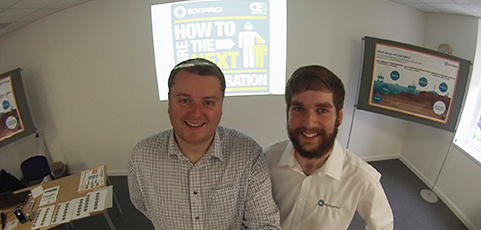 When I was young, I loved taking things to bits and seeing how they work, so engineering as a career excited me. Like many others in the industry, my path wasn't linear; when I finished school I completed an HNC in Mechanical Engineering but went on to pursue a career in the finance industry. I later returned to my love of all things mechanical and completed my Masters at Heriot Watt University before starting with Expro. My career history out with the industry has given me a unique skill set which helps me to be successful and happy at work.
Getting school students and young engineers talking about the industry allows them to see the path to a rewarding career. OE15's INSPIRE schools engagement programme catered for two age groups of students; 13-14 and 15-17 year olds. Following presentations designed to excite the students' interest about the energy industry; they were taken on our personal journey from high school students to professional engineers. Offering individual experience here allowed the students to relate to our paths into the energy industry. It's not every day that students get an appreciation of scale, but by touring the exhibition and speaking to the companies, they were given the wow factor that we all had when we first discovered Offshore Europe.
Helping to run a programme leading hundreds of students around a trade show was always going to be hard work but it turned out to be extremely rewarding. Students were given a chance to ask the burning questions and we hope the teachers will continue to encourage this curiosity when they get back to the classroom. Following positive feedback about the programme, it is imperative that we repeat this success in coming years as the industry continues to challenge us.
Photo: John is pictured (left) in the classroom during the OE15 INSPIRE programme