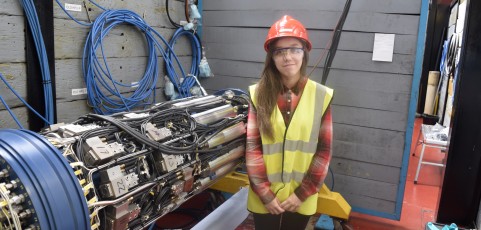 Week two was a more relaxed week as I settled in to my internship. I had been asked to write another blog about people who work for Expro and focused a lot of my attention on that. I had been assigned some really interesting people to interview and write about.
As soon as the candidates were identified, I started writing questions to ask each person. After figuring out what to ask, I emailed each interviewee setting up meetings. During the week, I interviewed three out of five of the candidates and found that Expro's staff have some great stories behind them!
During the week, the team had a meeting with Chris Stewart – an engineer who works closely with the Society of Petroleum Engineers (SPE). Chris explained what SPE do and how he got involved with the programme. He wanted me to design a refreshed poster for their monthly technical meetings. I was given free rein to do whatever I felt was best which was great!
On Thursday, Kay and I attended 'BREXIT – What the heck happens now?' This event was hosted by the Press and Journal newspaper. It gathered professionals together to quiz a panel of influential people about the effect of the United Kingdom's choice to leave the European Union. I had been particularly looking forward to the event and it certainly did not fail to impress. The panellists were excellent in answering questions and there were certainly some mixed opinions in the room which made it more exciting!
Overall, it was another great week. I met a lot of new people and had time to start all of my projects. Time seems to be flying by – it feels like I've only been at Expro for a few days – not a whole fortnight! With three weeks left I know I have to make the most of it.